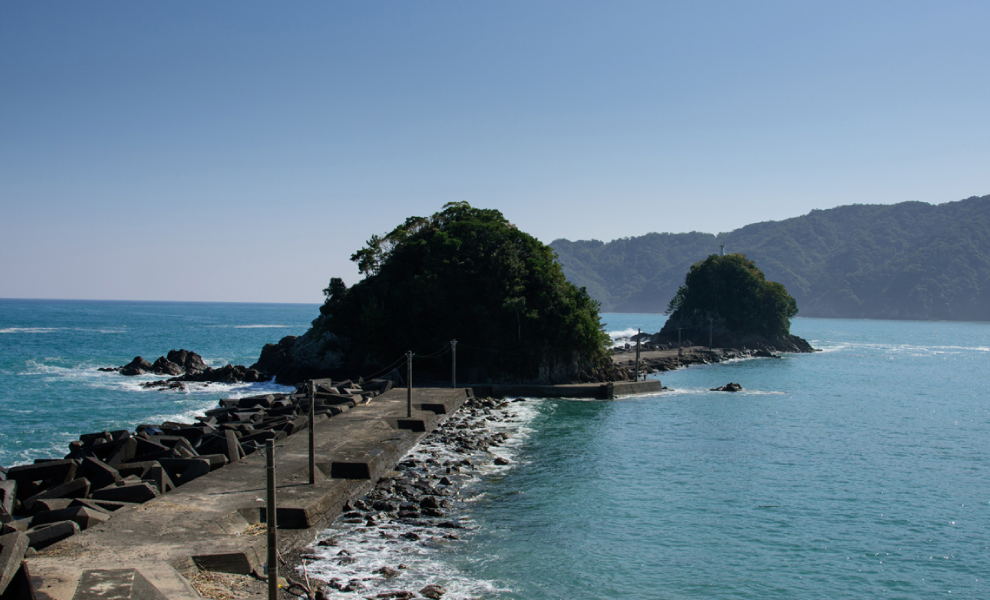 Two small islands floating in Kure Bay. From the past it has been known for its scenic beauty. Both islands are connected by land and you can walk up to the edge of the island. Looking from the Furusato Beach, to the right is "Benten Island" and the left side is "Kannon Island" in which the gods of Benten and Kannon are each enshrined. In Japanese Buddhism, "Benten" is considered as a god, and the Kannon is accounted as a saint.
The Island has a legend: Once upon a time, to rescue the coastal villagers suffering from the great waves, the demons made this island here to prevent the tsunami high waves from destroying the fishing village. On the island, there is a hole which is said to be made by iron polls when the demons carried the rocks here. Also, the legend says the small rock between the 2 islands "Eboshiiwa" stone is the remains of the child demon who turned into this stone crying after finding out the parent demon used up all their strength to make this island.
The fishermen of Nakatosa Town Kure district worship this island as their guardian god of the sea. Offerings are presented to the gods when large ships disembark the port to pray for the safety of voyage and fine catch. On a sunny day, we recommend you take a stroll to the lighthouse to enjoy the ocean view and rent a cycle to bicycle around.